Princesses Romanoff Tatiana & Anastasia with frenchie Ortino
1918, Russia.

Cristal & Cora, 1895
representative of the breed at that time in France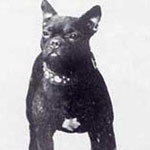 Gloucester Mignonet
1898, USA.
The French Bulldog Breed
A Bit of History
Harry V. Dunn, Jr.
The French Bulldog first appeared in the United States in 1896 at the Westminster Kennel Club's show in New York. He soon became known as "Frenchie," a name that stuck with him. He was a small to medium-size dog weighing under twenty-eight pounds with short hair and a muscular build. He was essentially a pocket-sized edition of the Bulldog, or English Bulldog as some people insist on calling them. However, his bat-like ears, held erect, his small size and his activeness set him apart from the Bulldog. He had a lively expression and a disposition described by some as roguish and fun loving. He's been referred to as "a clown in the cloak of a philosopher."
In the late 1800's the Bulldog had long had a reputation for strength and tenacity, sterling qualities in those days of sail, which was appreciated by seafaring men the world over. So it is not surprising that French seamen engaged in cross channel trade took a shine to them. Some Bulldogs in the south of England were known to be smaller than usual. It is generally thought that seamen liked the small size dogs because they were easier to smuggle aboard ship and keep out of sight during the trip back to France. During the same period, lace workers in the south of England, displaced by machines in the industrial revolution, moved to France in large numbers to practice their trade and took their "toy Bulldogs" with them. Thus many small Bulldogs found their way across the channel as pets.
In France, they became the dandies of "Ladies of the Night" and were quite popular in Paris, often being depicted in brothels by artist of that day. American tourist discovered the little French Bulldog and began bringing them home.
In this country, in 1897, exhibitors, disappointed because an English judge picked a Frenchie with rose ears for his best of breed, called a meeting and formed the French Bull Dog Club of America (the first breed club for French Bulldogs in the world) and the next year adopted a standard which remains essentially unchanged today. So it was here in The United States that the Frenchies "bat ears" were standardized, their small size maintained by a weight limit and their mixture of colors preserved. Frenchies can be brindle (not black - some brown hair must show), fawn, cream, white or pied as long as the dark patches in the pied are not black.
The French Bulldog's size and temperament make him ideal as a household pet. He readily adjusts to apartment life or to a large house. It is best, if possible, for him to have at least a small fenced yard to run and play in. He seldom barks but is alert to strange sounds. He is affectionate and likes to be near his humans and especially likes children. He is usually quiet and gentle but always ready to play. He is intelligent and quite trainable. And best of all, he needs no docking of tail or trimming of ears or other mutilation to satisfy human fads. We accept him and he accepts us just as we happen to be.

Ch Sacharissa
1906, UK.

Jojo & Madame Mesrity, 1933
Jojo has been sold to America for $2350

Vera Salvotti & Frenchie, 1933.
President of Italian Women Kennel.